4 Ways to Ensure Your Gym is Ready for the New Year
After the holiday season, there can often be a lull for some member-based businesses. It can be a challenging time but, with the right preparation, you can ensure that your health club is ready for the New Year, as you take advantage of all those New Years Resolutions and help your community members achieve them. Here are four ways to ensure that your health club is ready for the New Year.

1. Referral Campaigns
To keep the conversation going, referral campaigns are a great method for inspiring and motivating your current customers to stay active throughout the New Year and to get their friends and family involved as well. The referral campaign can be as simple as offering a chance to win a week of free classes for every person he or she brings to the health club. This will increase retention rates and give your health club a kick-start with new customers.
2. Keep Social Media Alive
Posting to social media can naturally slow down during the final weeks of December and into January, but be sure not to let it die off. You should never let your Instagram, Twitter, or Facebook go to radio silence. Of course, this is not to say that your social media manager should be working through the holidays. Instead, just be sure to schedule a few holiday-related posts in advance, as well as any New Year deals you may have lined up. Do you run Facebook ad campaigns? Check out our free guide to Facebook advertising.
3. Offer a "New Year" Personal Training Package
One surefire way to ensure that your health club is busy through the New Year is by offering a package or deal so good that both new and returning members just can't miss. Take advantage of everyone's motivation that comes with the New Year; fitness-related resolutions are among the most popular ones made every year. A "New Year Personal Training Package" could help those in your community start their year in a happy, healthy way.
4. Partner with a Local Business
Partnering with a local business is another way to ensure that your organization is in good shape, come January. Consider working with one of the health food stores in your area and come up with an incentive for new and returning health club goers. A campaign could look something like members getting 20% off at the health food store, if their customers complete a fitness class. These types of cross-promotions are mutually beneficial to both your health club and the health food store; be sure to share the news on social media, in your newsletters, and through any other means of communication you use to interact with your members.
Being an entrepreneur or business leader can be an equally challenging and rewarding thing, especially when you have to carefully spend your time managing staff and also growing your business. Download our 5 Tips for Member-Based Businesses which will help you save time and increase revenue, to kick-start your New Year!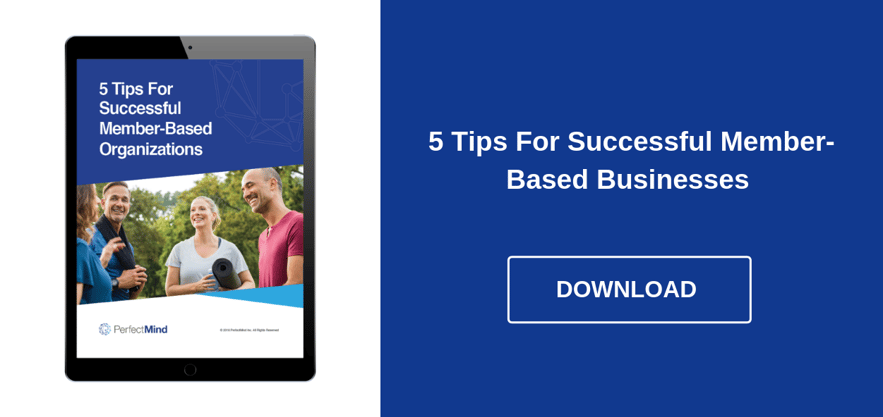 ­