Feature Focus: Create a Brochure Export for Marketing Materials
What if you could create a beautiful brochure in the time it takes you to drink your morning coffee? Your marketing coordinator probably spends precious hours creating printed brochures for each program, each with detailed information on dates, hours, instructors, etc. With Xplor Recreation, you can easily create brochure exports that you can import into Adobe InDesign, using existing information pulled from the platform. This feature is the perfect marriage between design and efficiency.
Who would use this feature?
Your program or marketing coordinator will rejoice at the time savings and ease-of-use of Xplor Recreation's brochure exports. Whether you have a professional graphic designer, program coordinator, or marketing assistant doing the design work for your promotional materials, this handy feature will change the way you create marketing material moving forward.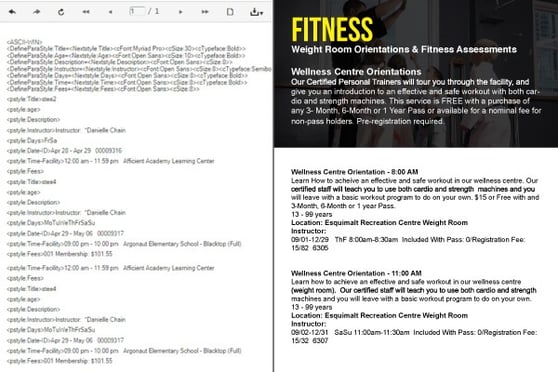 How does this feature benefit my staff?
Customizability is key: your staff can select from one of the brochure export templates from Xplor Recreation and use the filtering and preview options to modify its contents. Pick what information you want shown, and how it's shown – include service type, event dates, fees, location, instructors, and more. You can also choose the format type of the dates and fees shown. That's not even the best part – the exported file from Xplor Recreation comes with default tags that can be quickly modified in Adobe InDesign, where your changes will be copied throughout the brochure. When we said time savings, we meant it!
Great! Show me how to create a brochure export!
Access Brochure Export in the Scheduling and Activities folder, or simply use the report search feature
Click the Parameters Area icon and choose what you want to appear on your brochure export using the menu beside the template
Save your work and check Save Filter Selection
Preview the printed template and export the file to your chosen file type
Import the template into Abobe InDesign to see what happens!