Pickleball 101: Get the most out of this craze at your recreation facility
Group fitness – in the gym, pool, outdoors or a studio – have long been a popular option for those looking to get active in a community environment. Data from IHRSA shows that group exercisers visit a recreational fitness club on average 2.7 times a week, while those who use the gym visit twice a week.
It seems that group fitness is a growing area of popularity, which can also be seen by how many more organizations are hosting group activities, including pickleball.
What is pickleball?
Invented in 1965 on Bainbridge Island, WA, pickleball is a cross between tennis, ping-pong, and badminton. But it does have a few key differences.
The ball used is less bouncy and slower than a tennis ball, while the paddle is shorter and lighter than a tennis racket. Pickleball players serve underhand instead of overhead, which makes it easier to play and for new players to get in.
Pickleball has seen significant growth in popularity over the past few years and shows no signs of slowing down. According to the Sports & Fitness Industry Association, pickleball's popularity grew by nearly 40% between 2019 and 2021, making it the fastest growing sport in the US.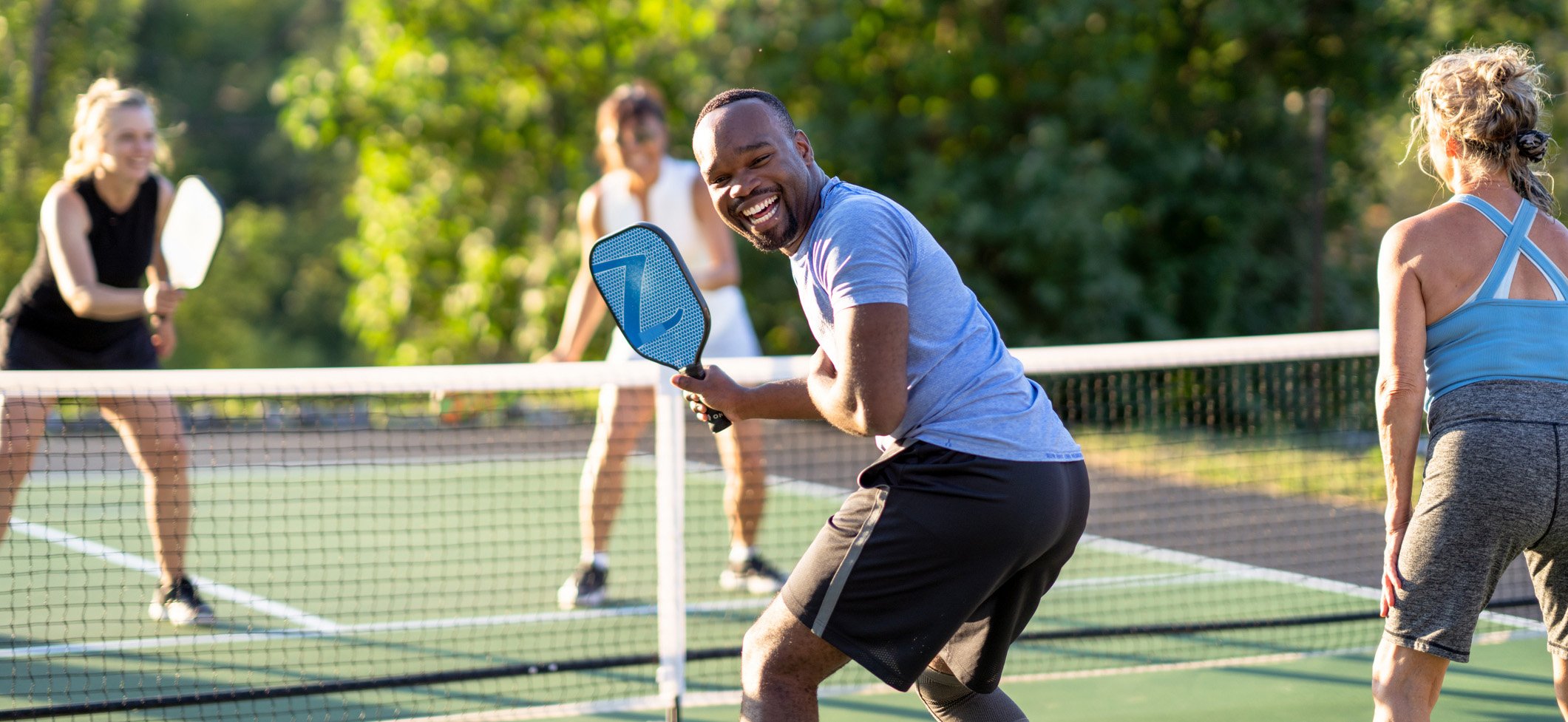 Why is it called 'pickleball'?
This sport has a truly unique name, doesn't it? But surprisingly it isn't named for Gherkins. Actually, Pickleball is named for rowing.
The creator of the sport, Joel Pritchard and his wife Joan Pritchard were involved in local rowing. A 'pickle boat' or 'pickup boat' means a boat made up of a crew of the 'leftover' rowers.
When the Pritchards invented what would become pickleball, they used bits and pieces of equipment from other sports. The pickle boat race came to Joan's mind, and the rest is history.
Get your exclusive download of 2023 Parks & Recreation Trends and Predictions Report! With the help of this guide, engage more of your community in 2023 and beyond with these actionable strategies.
Why is pickleball so popular?
There are a few reasons why pickleball is so popular for recreation visitors and facility operators alike.
Pickleball is easy to play
Pickleball has a lower barrier to entry, so you don't need to be a pro player to start and have a great time.
Pickleball courts take up less space
Recreation facilities can fit 4 pickleball courts in the same space as just one tennis court (most 'picklers', as the players are affectionately called, play doubles)
Pickleball boosts your social life
It gives people, particularly older adults, the opportunity to keep active and socialize – both vital for overall wellbeing.
More and more, parks and recreation organizations are investing in pickleball facilities and introducing leagues and social sessions. The city of Surrey in British Columbia, Canada, hosts a successful social group for pickleball participants to gather for a chat and refreshments post-session.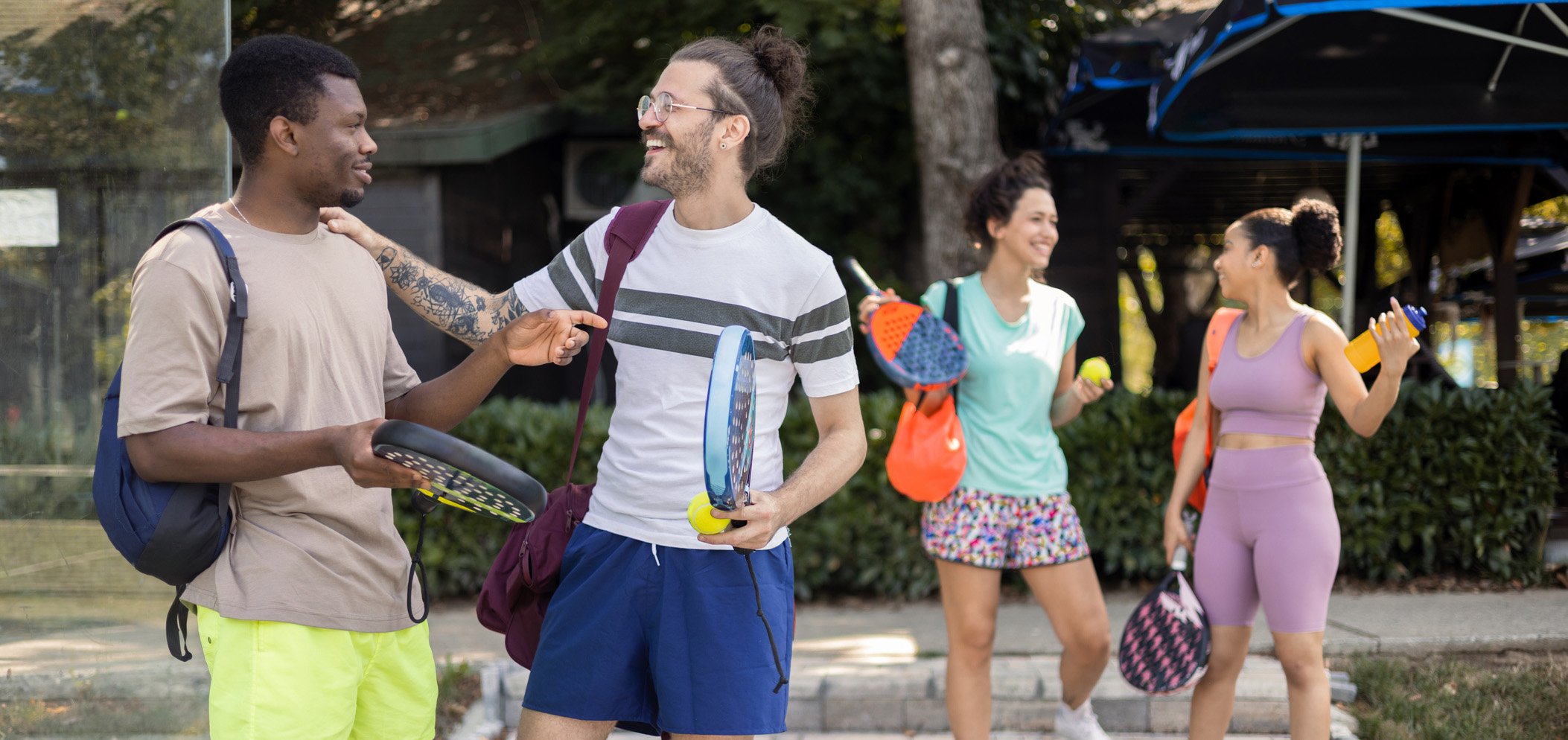 Not just a senior's sport
Somewhere along the line, pickleball got a reputation as a sport for seniors. It's not necessarily untrue — players aged 55 and up are the largest sector of participants at 19.8%.
But that age is rapidly changing. According to data from SFIA, the average age of players was 41 years old in 2020, but that age dropped to 38.1 years in 2021. This change happened because of skyrocketing growth among players under the age of 24 (21% of players).
There is sustained growth for young people entering this sport; participants aged 18 – 34 make up the second-largest segment at 18.5%.
Pickleball across the country
This sport is gaining huge ground everywhere, but there are unique hotspots across the United States. The three states that have over 500 pickleball courts are Texas (519), Florida (770) and California (794).
On a smaller scale, Seattle is the city with the most pickleball courts (49), followed by Denver (37) and Portland (33). Austin has the #6 spot with 32 pickleball locations, but they are sure to tip the scales with the opening of their upcoming Austin Pickle Ranch.
Google Trends don't lie, and the numbers show just how staggering its burst in popularity has been everywhere. Since 2018, interest in pickleball has increased 419% in the United States, and 400% in Canada!
The popularity of this sport has culminated in 47 pickleball tournaments held throughout 2023 between the top three pro tours:
Major League Pickleball

(MLP)
Don't forget your exclusive download of 2023 Parks & Recreation Trends and Predictions Report! Grab it now and engage more of your community in 2023 and beyond with these actionable strategies.
Get in on the pickleball trend
Why wait for the pickleball craze to bypass your recreation facility? Engaging with your community and staying up to date with recreation trends starts with a great software partner.
Xplor Recreation is your ultimate pickleball software solution:
Facility booking management to prevent booking conflicts and effortlessly manage rentals.
A wide range of payment options, discounts, and bundling options for a speedier checkout.
Streamlined email marketing campaigns using smart lists, templates, and automated sending.
Book your demo today!