5 Creative Yoga Marketing Ideas for Your Studio
If you're looking to open a new yoga studio or are currently running one, your yoga marketing strategy is important to maintain your current students and inviting new students to walk through your doors. Not only do you need a well-rounded, talented group of instructors to offer high-quality yoga classes, but getting the word out about your yoga teacher collective, your studio space, and intention is also very important.

While word of mouth will work wonders in organically marketing your yoga business, you also need a tangible marketing strategy, as well as yoga studio management software, on your side. Let's take a look at a few things you can do to help improve marketing for your yoga studio and grow your business overall. Here's how to get started!
Yoga Marketing Idea #1: Yoga-Specific Website
Design a Yoga-Specific Website
Does your yoga business have a website where customers can learn more about your studio? This is a perfect landing page for current and potential students to learn more about your studio. Updating your website is one of the best yoga marketing initiatives on your side. It should include a calendar of classes, a description of those classes, and ways to register for your offerings. Your upcoming workshops and special events should also be featured on your yoga website.
Also, be sure to include your mission statement; what is your vision and intention for providing yoga to your community. You want this to be a description of values on how you run your business and serve your students. The statement may also be what makes you unique, and differentiate your studio from the other yoga studios in your area. Finally, one of the most important items you should include on your site is your location (i.e. address), contact information (phone number, email address), and hours. These should be easily visible on the front page of your site, that way people are likely to seek you out as a potential place to practice yoga.
Incorporate SEO Best Practices
When developing your yoga website make sure it is search engine optimized.You want to use keywords that serve you the best. These may include words like "yoga," "yoga studio," "yoga in [your city]," and perhaps the styles of yoga you offer "meditation," "hot yoga," "power yoga," and "[specific] yoga class". And be sure to use your studio name as a keyword, too. You want people to be able to find you if they do a search through Google or other search engines. This is ideal for people visiting from out of town to find you easily
Yoga Marketing Idea #2: Optimize Email Marketing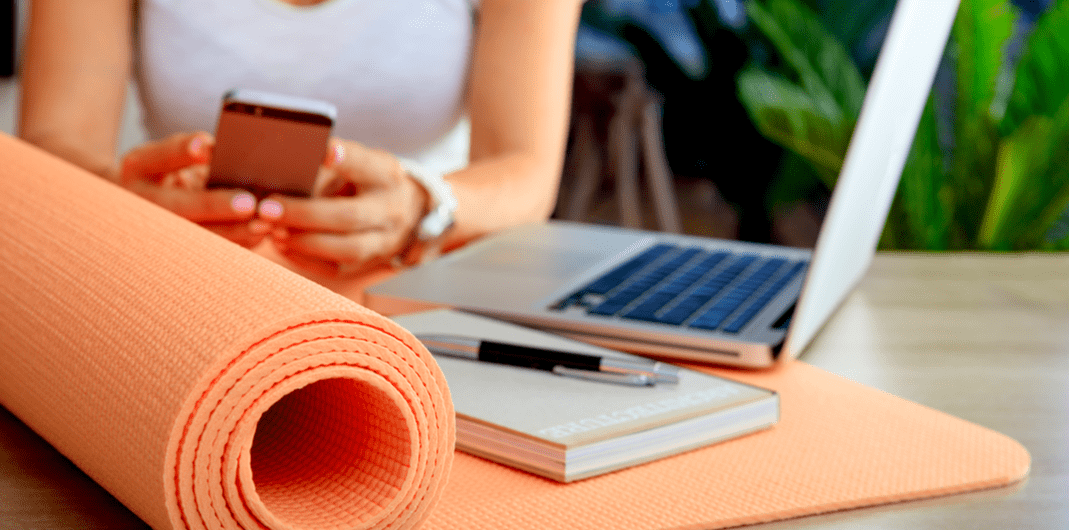 Produce a Weekly Newsletter
Create and send out a weekly newsletter that keeps your students well informed about what is happening at your studio. Include your list of classes, workshops, and special events that you have coming up. You could also include blog posts and educational articles in your newsletter that will enhance your students practice and offer them value. For instance, a yoga pose of the week and tips on how to achieve it. You could also highlight your business by doing spotlight features on a specific yoga teacher at your studio. You could even spotlight some long-time students (with their permission!) and show how they use yoga to boost their well-being and how your yoga studio has helped them. Just make sure you're sharing fresh, exciting content that you yourself would be interested in.
Segment & Automate Your Email Lists
Don't send the same content to everyone! When incorporating email marketing, it's important to make sure you have workflows and processes in place to catch prospects at the right point in the funnel. Segment your email database so that you can send tailored emails to your leads (people who haven't signed up for a membership yet), your regular clients, and former clients who haven't been to your studio in a while.
If your yoga studio management software has integrated fitness marketing automation features, you'll be able to automatically segment and create smart email lists. You'll also be able to automate your emails. This means not only can you schedule emails in advance to save time, but you'll also be able to set up emails to go out based on the actions of your customers. For instance, a welcome email can be triggered to go out automatically to someone who purchases a membership. Or you could automate a reminder email to go out to a member who has missed more than 3 classes in a row. The possibilities are endless!
Yoga Marketing Idea #3: Engage Through Social Media
Post Engaging Content on the Right Channels
When delving in the world of digital marketing, social media marketing will be an important avenue for you to own. When starting out, focus your efforts and attention on one or two channels and build those up before adding more. Most yoga studios utilize social media apps such as Facebook, Instagram, and Pinterest; you could start there. If you create video tutorials, you could also explore a social media channel like Youtube.

Once you've figured out your channels, it's time to share engaging content that is valuable to your audience. Besides discounts and special offers, you could also share inspirational messages, yoga tips, blog posts that highlight the benefits of yoga, etc. on social media. Between such posts, you could also highlight your classes, your studio space, and focus on getting some reviews and testimonials from your students on Facebook.
Create an Editorial Calendar & Automate
Too many studios make the mistake of using social media marketing as a spur-of-the-moment strategy. Your social media channels need a cohesive plan to be successful. Create a social media calendar and plan what you will be posting in advance, along with any visuals or videos. Using an automation tool to schedule your posts in advance is another good idea and will save you a lot of time down the road. There are plenty of social media automation tools that offer a free, basic version for a small yoga business, such as Hootsuite or Buffer. Scheduling your posts in advance will keep you more consistent and consistency can help you boost your follower count and engagement.
Use Analytics To Inform Your Content
Get familiar with the reporting tools all social media platforms offer and gain insight into your audience and the kinds of content that is performing well. This can be as simple as identifying your most engaging post (one with the highest number of shares and comments) and post more similar content. Or you can go deeper and figure out what are the optimal times for posting, based on when your audience is online, which types of post drive the most traffic to your yoga website, and even more insight into who your audience is. Analytics are a good way to refine your social media posting strategy and ensure your content is making an impact.
Yoga Marketing Idea #4: Host Local Community Events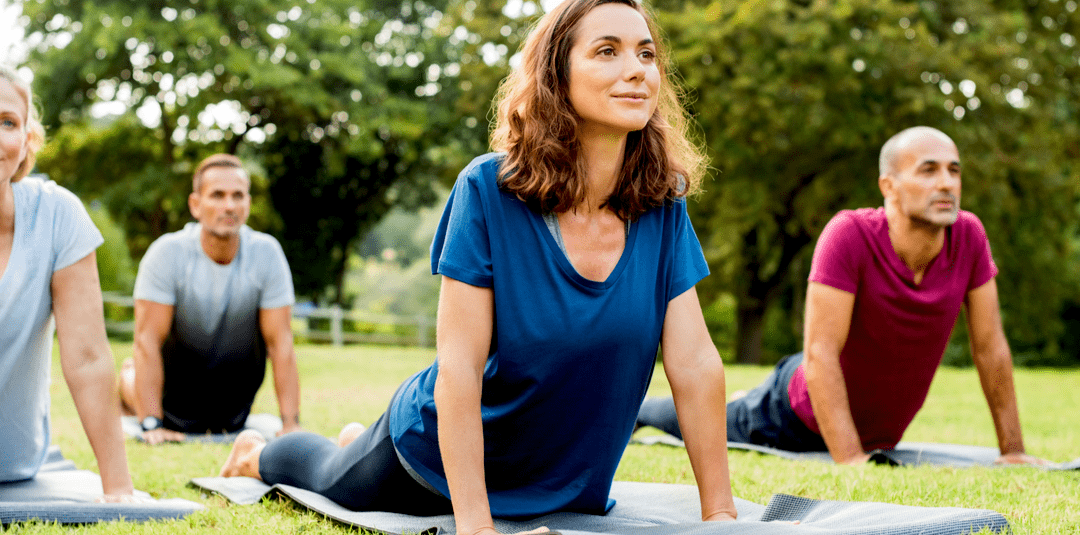 Offer Unique Classes
Another great way of marketing to promote your new yoga studio and attract new students is by hosting local yoga classes for your community. Get creative and do some research to create some unique offerings that will generate a buzz and boost your studio's brand. Any yoga teacher will also love being part of such a fun, unique class offering! For example, you could offer a limited series of classes on trendy yoga practices like chair yoga, restorative yoga, puppy yoga in the park, and aerial yoga. If you have space and resources, you could also consider some novelty yoga classes. Finally, you could theme one-off classes based on what your students will achieve from the class. For example, yoga for mental health or yoga to relieve lower back pain.
Secure Local Partnerships
Do some research and team up with vendors or local health and wellness businesses in your area to start marketing and hosting successful yoga events in your community. For example, partnering with a local spa to offer a pop-up yoga class. Or partnering up with a popular fitness instructor to offer a Yoga HIIT class. Partnerships are a great way to expand your offerings, boost your brand awareness locally, and reach a wider audience. Partnerships extend beyond events - you could also partner with companies to offer unique discounts and incentives in your marketing campaigns.
Yoga Studio Marketing Idea #5: Use Paid Advertising
Pay-Per-Click Marketing
If you have the budget to invest in paid advertising, pay-per-click or PPC marketing is a viable option for digital marketing your yoga studio. This allows you to rank in the top position of search results, provided your campaign has the right mix of keywords, ad copy and bidding strategy. As the majority of people online are likely to come across your yoga studio through your website, sending qualified traffic from PPC ad campaigns is a good strategy. It's reported that businesses make an average of $2 in income for every $1 they spend in Google Adwords (Blue Corona, 2019).
Facebook & Instagram Ads
Facebook and Instagram advertising is a great way to use digital marketing for your yoga studio. As the organic reach of Facebook posts has been declining since 2014, paid ads are a good way to reach your audience. Using Facebook Ad Manager, you can set up targeted ads on Instagram and Facebook based on location (where your studio is based), interests (people who are interested in Hatha Yoga for example), age and gender (for instance, if you offer prenatal yoga classes, you could target expecting mothers who are interested in yoga), and a lot more. For more information about setting up and running a Facebook ad campaign, check out this free downloadable guide of the fundamentals of Facebook advertising.
In Summary
There is a lot you can do to boost brand awareness and improve the visibility of your yoga business. Take advantage of some of these ideas to bring more business to your yoga studio. We hope these strategies inspire you to get started on your new yoga marketing strategy!
Using the right yoga management software can also help you improve and streamline your marketing. Xplor Recreation's yoga studio management software is an all-in-one studio management and marketing automation platform. From one centralized, easy-to-use platform you can create, send, and report on all your marketing efforts. Marketing features like smart email, campaign management, and online booking widgets make it easy to capture new leads for your business and convert them into customers.
Increase your leads and improve retention for your yoga business with an all-in-one yoga studio management software.
Other Useful Resources for Your Yoga Business